Mid-winter break is nearly upon us, and we know it often comes with a mix of excitement and dread! But don't worry, we're here to help. We've got lots of ideas to keep you and the kids occupied. And of course, they wouldn't be RoosterMoney tips if they didn't come with a little educational twist! P.S. All ideas listed are weatherproof!
1) Get crafty
Stuck indoors and wondering what activities to do with the kids? Why not have a go at these arts and crafts style activities we dreamt up with Toucan Box? All designed to teach some valuable money lessons while they're at it.
2) Enter our Money Making Challenge - Win $50!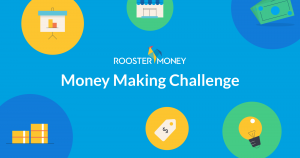 We've just extended our Money Making Challenge for another week – so there's still time to enter!
We want to hear your kids' best money-making ideas. Whether it's a plan for their first business, an event for their friends, an awesome toy idea, washing cars on your street, bake sales or setting up a YouTube channel. We want to hear them all! 
The winner gets $50 to make their idea happen & a logo design! You can find out more here.
3) Get them into the earning spirit
With the extra time they have over the break, depending on their age, your kids can take up a few extra chores around the house. And if your kids haven't got a chores routine in place yet, this could also be a good time to get one started!
Not sure where to start? Check out our handy Chores List for some inspiration on age appropriate jobs, based on what we've seen with other RoosterMoney users.
4) Pre-spring clean
Why not use mid-winter break as an opportunity to clear out old toys, clothes or books?
Not only will this kick-start the upcoming spring clean but this is also a great opportunity to teach your kids about giving (and maybe earning too – think car boot sale!). 
After your clear out, if you're thinking of taking some of your family's old stuff to a local charity shop, you can get your kids involved! Both in choosing which things are to be donated & also researching the charity shop they'd like to take them to. Find out more about how to get the kids involved in giving here.
5) Practice for pancake day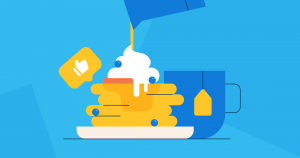 Pancake day is just around the corner! Why not spend an hour or two with the kids over mid-winter break to practice making the perfect pancakes? You can check out our favorite easy & money-saving pancake recipes here.
Pancake making can also provide some valuable lessons too. Get them to help with finding out the costs of ingredients. Most of the things you need are really cheap, and the end product can be very desirable (assuming recipes are followed :)) – so for those budding entrepreneurs out there, there could even be some money to be made!
6) Going abroad?
If your family is heading abroad for mid-winter break, there's loads of opportunities to spark conversations about money. If you're eating out you can play 'guess the bill' or calculate the tip – these conversations can be an interesting insight into their perception of what things cost. And if your kids really want to show off, get them to guess the cost against the exchange rate!
Got any ideas or suggestions for what we cover next? Let us know at hello@roostermoney.com and it may get featured in a future blog!