Our latest app version 6.7.0 comes with lots of great updates from the new Explore menu to surface useful items to new functionality in Chores for our Rooster PLUS families. 
Explore
Our main aim at RoosterMoney is to build financial independence and literacy amongst children. Alongside the app, we've also developed lots of educational resources for parents and families. We've built the Explore menu as a way to surface useful areas of the app for parents, including easy access to our many Resources.
Sitting at the bottom of the parent dashboard, you can tap on Explore to expand the menu and tap it again to hide it. For PLUS users you can also access the Master Chores List from here!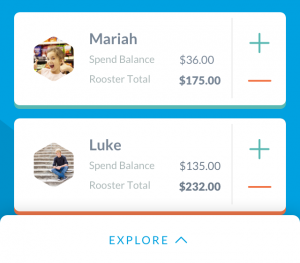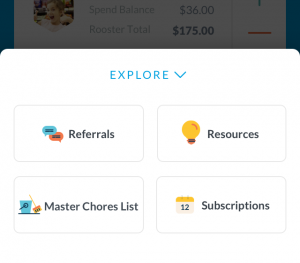 Updates to Chores
Quicker Access to Chores
Parents can now quickly access a child's chores list from the parent dashboard. We've added a Chores widget to each child's profile so you no longer have to click into their profile to access Chores.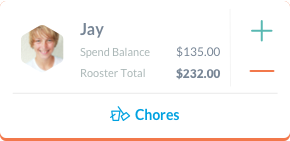 Master Chores List
One of our most requested chores features, parents can now view all chores added for a child – no longer limited to the allowance period or week – from the Master chores list. From here parents can edit chores or delete chores in bulk – useful if you want to clear the list or get rid of lots of chores in one go.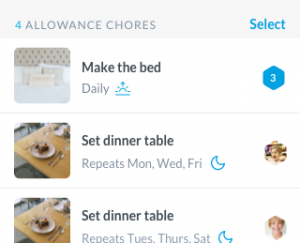 The Master chores list shows the chores assigned to all children in the family, but can also be filtered by chore type or by child so you can focus in on what's important.
The quickest way to access the Master Chores list is via the Explore menu:  
Tap on the 'Explore' at the bottom of your Parent dashboard

Tap on "Master chores List"
The Master chores list can also be accessed from any of your child's chores lists as well: 
From your child's Chores list tap the Settings cog in the top right

Tap on "See Master chores list"
Organise Chores by Time of Day
You can now organise chores by when they need to be completed by: morning 🌥, afternoon ☀️, evening 🌙 or anytime! When adding a new chore or editing an existing one, you'll see an additional option for choosing the time of day. The chores will re-order on your child's list for each day, with morning chores showing first, followed by afternoon, evening, and then ending on anytime chores.
Note: if editing a chore with the time of day, the changes may not appear until the next day.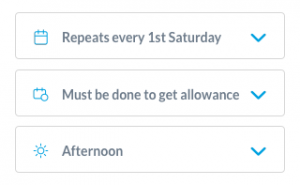 We hope you enjoy the changes in app version 6.7.0. Thanks to everyone whose continued to share feedback with us so we can continue to make RoosterMoney a flexible app for all our families using it.
If you have any feedback or suggestions, we're all ears! Just tap 'Contact us' in the app to share it with the team.