There are a lot of educational Apps out there, but not all will hit the mark. We've done the hard work of separating the wheat from the chaff ? and have evaluated these 10 best math apps for kids so our Rooster Families don't have to do the work.
Best math apps for kids under 9
King of Maths 👑

Set in ye olde days, your kids choose between 2 characters to complete Math challenges in Addition, Subtraction or Mixed maths. With 9 levels in each book, the questions are more complex than your standard 4+12. Bringing in some basic algebra, your kids will be challenged to work out which number is missing in order to get the answer, and so on and so forth.
For the older kids, you can pay a one-off purchase to unlock the full package, which ranges from your standard multiplication and division to more advanced geometry, equations and powers! As they progress and level up, they can unlock new character designs and music. This game is fast paced and engaging, a great way to practice Middle School and Junior High School level mathematics.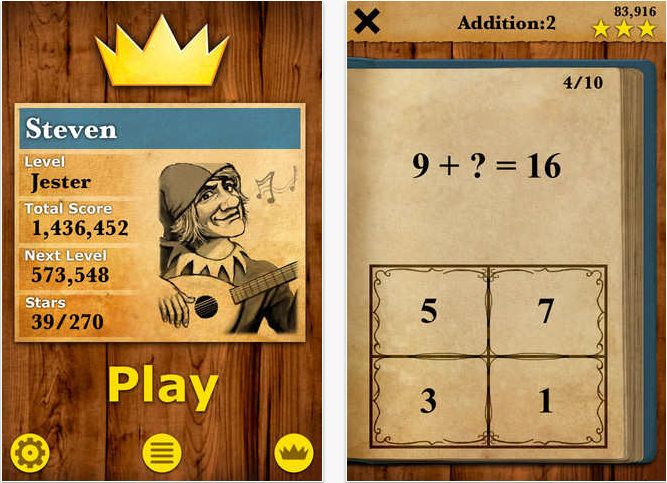 Age 9+ 
Free with in-app purchases
18 languages available
Visit their website
Math Tango 🏝

The game is set in a beautifully crafted island called Math Tango, and your children are tasked with bringing back magic and wonder to the island. They're guided through the game by their Uncle Fibonacci (chuckle by all of us who like Maths) who helps to get them set up. Their aim is to complete challenges and collect gems which unlock monsters who will live on the island. It's not only Maths games, your challenges also include buying decor with your hard earned dubloons to bring Math Tango to life. Displayed in landscape view, this ones a good maths app for a kids iPad.
The app is free to try for the first 2 challenges, and then you can unlock 200+ puzzles covering 20 Maths levels through in-app purchases for a Beginner or Beginner/Advanced levels in the app.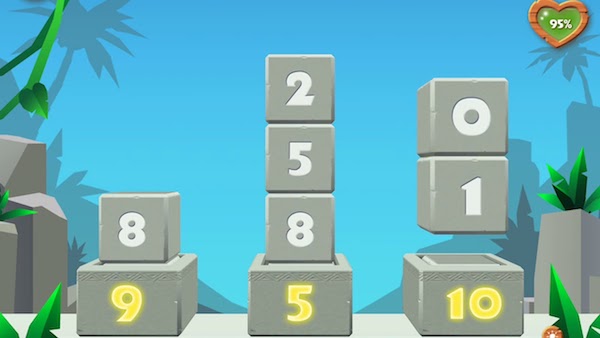 Age 6-9 
Free trial with in-app purchase
iOS only
Visit their website
Maths vs Dinosaurs 🦖

The premise: Siblings Max and Zoe create a time traveling machine to explore the Mesozoic Era. They have to battle their way through cavemen in order to encounter the dinosaurs. When they beat the dinosaurs by completing math challenges, they get an interesting historical fact about the stone age.
The math problems can be set to be super challenging by enabling decimal points, division, multiplication, etc. The graphics remind you of something between Captain Planet and the Magic School Bus, but the challenge can be set tough enough that you want to continue to test yourself and improve. The one major downside is there are way too many in-app adverts, so if the style of game suits your child, it might be worth purchasing the upgrade to remove all ads.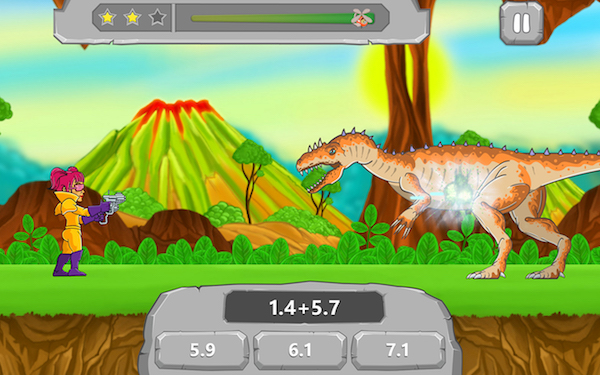 Age 9+ 
Free with in-app purchases
26 languages available 
Visit their website
Cool Math Endless Run 👻

Your child plays a cat on a mission to save their friends who have been kidnapped to Halloween Town. To do this they need to earn coins, to upgrade their four math spells. Sounds like a kooky concept but works really well. It's Temple Run meets a Pop Quiz, so their minds are engaged throughout to avoid obstacles, and collect coins whilst choosing the right answer. I'm sure it will be addictive to parents and children alike.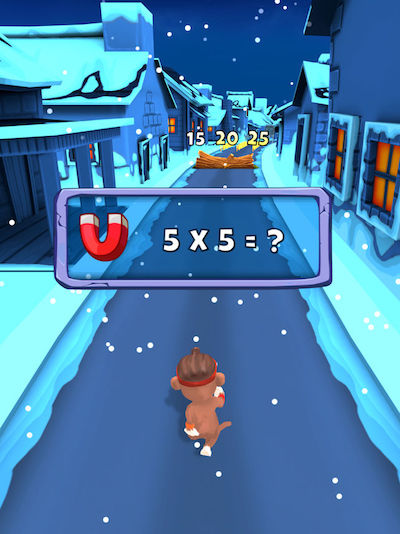 Age 6+ 
Free with in-app purchases
Google Play only
Visit their website
Monster Math : Kids Fun Games 👾
Your child plays Maxx the monster and they go on an adventure to save their friend Dextra who has been kidnapped. I can't decide if the monster is cute or scary, but the games are fun and positioned in a way that mentally challenges how you approach the calculations. Each level introduces a new villain they need to beat, each one more challenging than the last. The levels are beat by choosing the right equation for the set answer (e.g. calculations that work out less than 7).
The nice thing about this app is you can really customise the levels based on what year or grade your child is at school, or by choosing the things that they want to work on, as opposed to having to progress from the most basic level up. The mission to save Dextra is also a great way to keep your kids engaged in progressing through the levels. This is a great free math game for kids!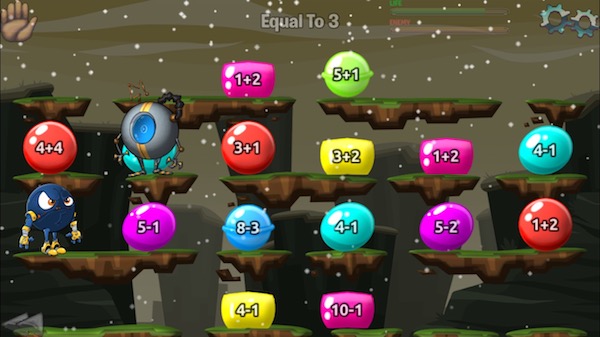 Age 9+ 
Free with in-app purchases
Visit their website
Best math apps for kids under 7
Tap Math 🎮

Addictively simple! One even parents might get involved in. Similar to Tetris, questions are creeping down the screen and you have to choose the right answer out of two options. Every time you get one right, you slow down the blocks, but if you get one wrong, the blocks continue falling until it hits the bottom and the game ends. High scores are listed on the screen, and your kids can work towards beating their personal best.
There are three levels you can set – Children, Standard or Hardcore. Standard is the free app, and you have to pay a small one-off fee to unlock the other levels. The good thing is, there's a mix of addition, subtraction and times tables, so you aren't always focussed on the same thing.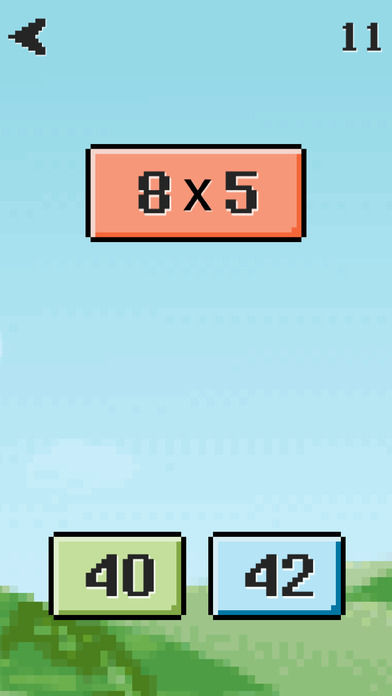 Age 5+ 
Free with in-app purchases
View their website
Times tables quiz! (Multiplication trainer) ⏱
A very straightforward and simple format yet very effective. Multiplications are posed to you on a blackboard with 4 possible answers. There's a timer counting down so it is a speed game, but a good way to test your mental recall of your times tables. The aim is to try and beat your personal best.
Age 6+ 
Free (can pay one-off fee to remove ads)
Simple Sums Free - Maths Game for Children 🧑‍🏫
A real class room feel to practice those sums. Your child can choose from addition, subtraction, times tables and division to put themselves to the test. There are two levels available in the free version – Easy or Medium.
The questions posed get more challenging as they progress, but they earn nice achievements along the way to celebrate their mathematical success. There's even an Achievements section they can go into and see what awards are available to them and how they can get them.
The free version can get a bit disrupted with in-app ads, but you can upgrade to switch these off and unlock the Hard level.
Age 4+ 
Free with in-app purchases
iOS only
Best math apps for kids under 5
Quick Math Jr 🚌
Perfect for the little ones starting out with numbers. A highly visual game with lots of bright and fun colours. Your kids get to create their very own monster which they play with to explore the town and complete challenges to earn monster parts.
There's a Parent section for you to check progress and see how they are progressing through the game with their Report Card. From ordering numbers, to counting out loud, this is a great app to engage kids just starting out on their numbers journey. A nice math game for kids in pre-school or kindergarten!
Age 4+ 
Free with in-app purchases
iOS only
Visit their website
Maths with Springbird 🐤
Angry Birds meets mental maths! Playing as 'Springbird' the aim of the game is simple – freeing Springbird's friends who have been captured in the tree! By answering quick fire addition and subtractions questions, you fly up the tree collecting worms. When you complete the first level you get a key which is then used to free one of Springbird's friends at the next level.
Not purely focused on just the mathematics, kids can customise their Springbird by trading in worms for new outfits from the dress shop. They can also keep track of which birds they've saved from the Progress section. Engaging and colourful graphics, which approaches maths in a fun way, this is a nice app positioned at children starting out with their basic arithmetic.
Age 4+ 
Free with in-app purchases
iOS only
Visit their website
Got any ideas or suggestions for what we cover next? Let us know at hello@roostermoney.com and it might get featured in a future blog!