Every family has different ways of managing Chores or Allowance routines. Our aim at RoosterMoney is to be the most flexible allowance and chore system out there to suit different families' needs. With our latest update (app v7.1.0) we've listened to your feedback and introduced the following changes.
✅ View & approve past chores
You can now tap the date period at the top of your child's chores list and view previous weeks or allowance periods. This means you can view your child's chores and earning summary for that chosen period. You can also approve any extra earners that you may have from that previous period so that your child can get paid for those chores they've done.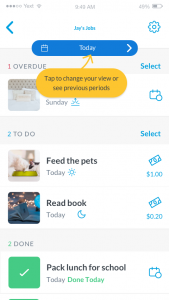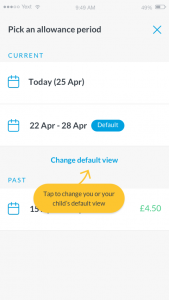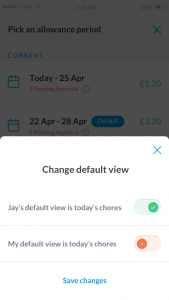 🔎 Set the default view to today's chores
Some kids were finding it hard to stay focussed with all the chores for the period displayed on their list as a long TO DO. We've decided to make the default view for kids to only show Today's chores (and show any that may be overdue for the period).
This will allow them to focus on getting their tasks done for the day, without getting distracted on what's coming up. Children can still switch views to see the full period ahead if they'd like by tapping the date button on the top.
As a parent, you can also change your default view to Today's chores by clicking on the date period button. You can change both yours and your child's default view from this section.
🗓 You can now set alternating daily chores
You can now set chores to repeat every other day or every 2 days. This is useful if you have daily chores/ responsibilities that rotate between your children. When scheduling a chore, go to the Daily section and click the drop down to see these new options. We're also looking at extending this feature to our Weeks soon.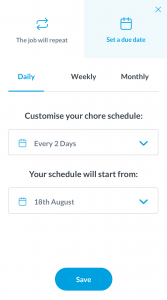 💰 Extra earner chores will now display differently
We have made 2 changes to how extra earners work:
Repeating extra earners will show all instances within the week/allowance period, not just the next one due for your child to do. So if your child gets a weekly allowance and you have a daily Extra earner, you will see all 7 instances upfront instead of just the 1!
Extra earners due any day will now repeat automatically each week / allowance period. This will save you the trouble of having to add these chores again after they've been completed.
We hope these changes are useful for you and your family. Make sure you've updated your app to v7.1.0 to get access to these changes. If you have any questions or have anything you'd like to share, you can get in touch with us by tapping 'Contact us' in the app.