We're really excited to share that RoosterMoney has completed it's first crowdfund via the Seedrs platform 🚀  and we've raised £2,278,290! 
Since Rooster launched in 2016, we've built a pocket money and financial education platform for families and grown to 200,000+ parents and kids logging in every month. We now have over 51 currencies being used in the app from London and Sydney to New York and Singapore!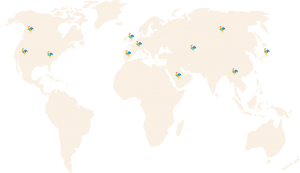 Join us on our mission
As we accelerate towards becoming a cashless society, our role is now more important than ever in preparing our kids for the future. We are growing rapidly to meet that challenge and have seen significant growth over the last 12 months. As our Rooster families are at the heart of what we do and have helped shape our business, we're excited about having them as investors and become a part of our success and join our mission to change the way the world talks about money with their children. 
Investor Perks
There are also perks that come with investing in RoosterMoney. You can see the breakdown based on the amount invested below: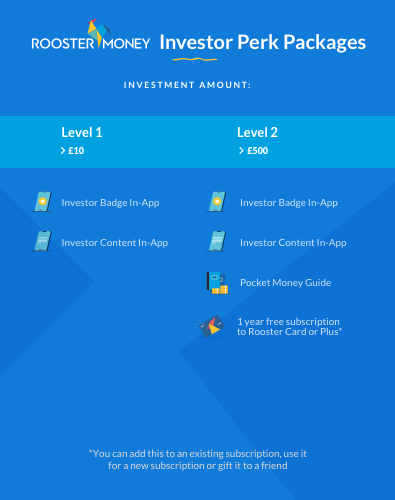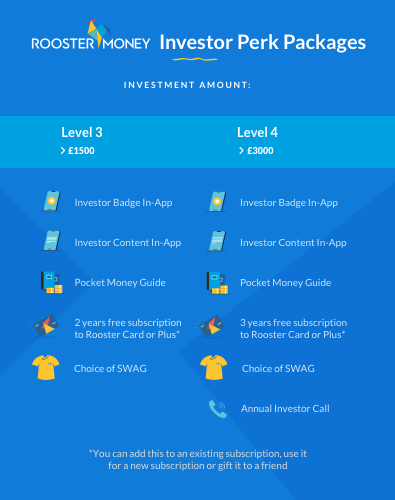 What is Crowdfunding?
Crowdfunding is a way of raising funds through a large number of people (the crowd). It taps into the collective networks of people from individual investors to the people using the service everyday (our customers!)  This allows companies like ourselves to reach a far greater audience than traditional investment options would allow and importantly gives you – our amazing families the chance to join us as investors and not only use the product but be investors!
At RoosterMoney we have crowdfunded via the platform Seedrs. Seedrs manage the process of investment and helps companies like ours manage the process. 
This communication is intended for residents of the United Kingdom. If you're interested in understanding how Crowdfunding works, you can read more on how Seedrs works here.
This article has been approved as a financial promotion by Seedrs Limited. Seedrs Limited is authorised and regulated by the Financial Conduct Authority. Seedrs Limited is a limited company, registered in England and Wales (No. 06848016), with registered office at Churchill House, 142-146 Old Street, London EC1V 9BW.

Investing involves risks, including loss of capital, illiquidity, lack of dividends and dilution, and should be done only as part of a diversified portfolio. Please read the Risk Warnings before investing. Investments should only be made by investors who understand these risks. Tax treatment depends on individual circumstances and is subject to change in future. Seedrs does not make investment recommendations to you and any investment decision should be made on the basis of the full campaign. No communications from Seedrs, through email or any other medium, should be construed as an investment recommendation.