With our latest app version 7.0.0, for Children using the Rooster Card, you can now return Goal savings to your Child's spend pot. We've also made some improvements for transactions and made changes to our  'Referrals' section.
Changes to Goals for children using the Rooster Card
At Rooster Money, our aim is to empower children so we've introduced a new option for when a child sends a Goal for approval. Parents can now send the money saved for the Goal back to the child's spend pot for them to use on their Rooster Card. Previously when a Goal was approved, the funds would be automatically returned to the Parent Account for the parent to fulfil –  similar to children on the virtual money tracker.

With the new option, kids can now make their Goal purchases on their card themselves so they can truly enjoy the full experience of achieving their Goal (from saving up to buying it themselves) and we hope it helps in building their confidence too!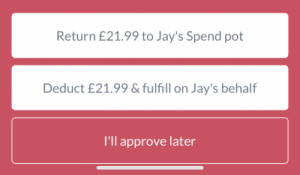 Improvements to transactions
For kids using the Rooster Card, we've also made improvements to how we display foreign transactions, offline transactions, and adjustments.
When purchasing in a foreign currency, you and your child can now see more information on the foreign exchange rate used at the point of transaction and settlement. All offline transactions and adjustments made to your child's Rooster card will also be clearly labeled and visible in the Spend pot and Statement so you don't lose track of them.
Better tracking of your referrals
Finally, we've added a new 'Referrals' tab to the 'Refer friends' section, where you can now see your referrals history and keep track of who's signed up with your code!  
Take a look by clicking the 'Referrals' tab in-app!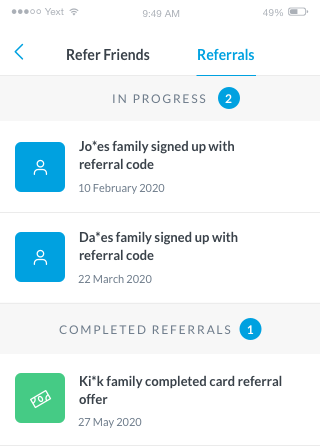 We hope you enjoy the changes in app version 7.0.0 & make sure to update to this latest version to gain access to the features above!

If you have any other suggestions, email us at hello@roostermoney.com or just tap 'contact us' in the app! ?