If you're looking to buy your child a tablet or simply thinking of upgrading their device, we can help. We've pulled together our top 5 tablets for kids that's child and budget friendly!
1) Samsing Galaxy Tab A 10.1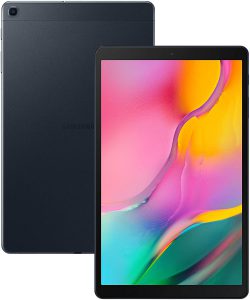 Having been praised as ''the most important tablet Samsung has released for deal-hunting buyers'' by trustedreviews.com, the Samsung Galaxy Tab A 10.1 makes it on our list. For around £199, you get a full HD screen, 3D surround sound, and good battery life (because remembering to charge a tablet every day can be challenging!)  
But most importantly, it's child friendly and with a touch of a button, you can switch the tablet to 'Kids Home' which is a safe mode tailored for use by children. It also has a separate parent home screen that's protected by a PIN, where you're able to monitor screentime, set playtime limits, and control permissions. We particularly like that you can add profiles of up to 6 different children – great for a bigger family!
Key specifications
Price

:

From £199

Screen

:

10.1 inches with a full HD with corner to corner display.

Operating system

:

Android

Storage

:

32GB

Battery life

:

Up to 13 hours with internet usage & video playback time. Up to 128 hours with audio playback time. 

2) Lenovo Tab 4 8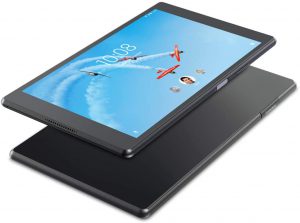 If you're looking for a more budget tablet, this one's for you- it still offers good battery life, colourful display, and performance. It's also great for the family as the Lenovo Tab 4 8 allows for multiple user profiles – so everyone in the family can have their own account with their own apps and preferences. We also like that with its light and compact design, it's easy to handle for younger kids! 
Key specifications
Price:

From £102 

Screen:

8 inches with 1280×800 resolution 

Operating system:

Android

Storage:

16GB

Battery life:

Up to 20 hours

3) Apple iPad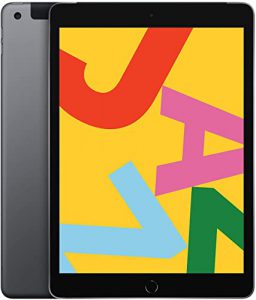 For all you Apple fanatics out there -the Apple iPad makes it to the list, being the most affordable Apple tablet. Although more expensive than other options listed, you do get Apple's fantastic iPadOS software plus access to the vast Apple Store, to which you can add your  Rooster Card to make purchases.

Plus if you already have an Apple account, you can connect the iPad and set in screen time limits, any app limits, schedule in time away from the screen, and other parental controls. This may be suited to older kids as its use can be doubled as a pseudo-laptop for schoolwork as you can attach a keyboard or even get a stylus to help with their school art projects! 
Key specifications
Price:

From £342

Screen:

10.2 inches Retina display

Operating system:

iPadOS

Storage:

32GB 

Battery life:

Up to 10 hours

4) Amazon Fire HD 8 Kids Edition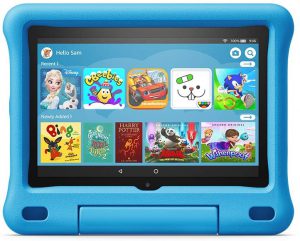 We love the Amazon Fire 8 HD for younger kids- it's a durable design with 2-year accidental damage protection that certainly eases your mind in case of any scratches or drops. It also has a good battery life and plenty of free, age-appropriate content for your kids to enjoy. We particularly like the child friendly interface as your user experience differs depending on which type of profile you're using: child, teen, or adult. Finally, the parental controls for child profiles are robust – you can block in-app purchases, block access to the Amazon store, and set up a curfew for the device. There's even an option to create your own custom rules!
Key specifications
Price:

From £139.99

Screen:

8 inches

Operating system:

Fire OS

Storage:

32GB 

Battery life:

Up to 10 hours

5) Amazon Fire 7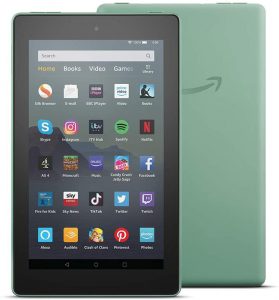 Finally, if you're looking for the best value tablet in the market, the Amazon Fire 7 may be the winner. It comes in a range of bright colours, making it ideal for school kids or teenagers looking for their first smart device. We also love that with the easy to use parental controls- parents can create a profile for each child, manage content, set a scream time limit, and educational goals. 
Key specifications
Price:

From £49.99

Screen:

7 inches

Operating system:

Fire OS

Storage:

16GB, 32GB

Battery life:

Up to 7 hours 

We hope that this helps with your hunt for tablets for kids & if you have any other suggestions of what we can cover next please email us at hello@roostermoney.com! ?