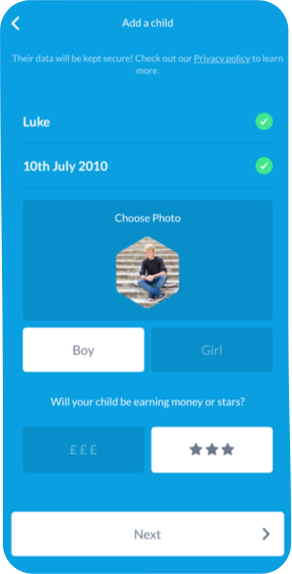 1
Add your kids & set your routine
To use Rooster Money to track stars, when adding your child, choose 'Stars' as the currency option. If you have kids ready to learn about money, you can set them up to earn their pocket money virtually. 
You can choose to give a regular allowance and how often you want it delivered. Or they can earn as they go with ad-hoc 'Boosts' to their account. With the Rooster card, you can take it one step further by setting up a chores list of things they need to do to earn their Stars or virtual money.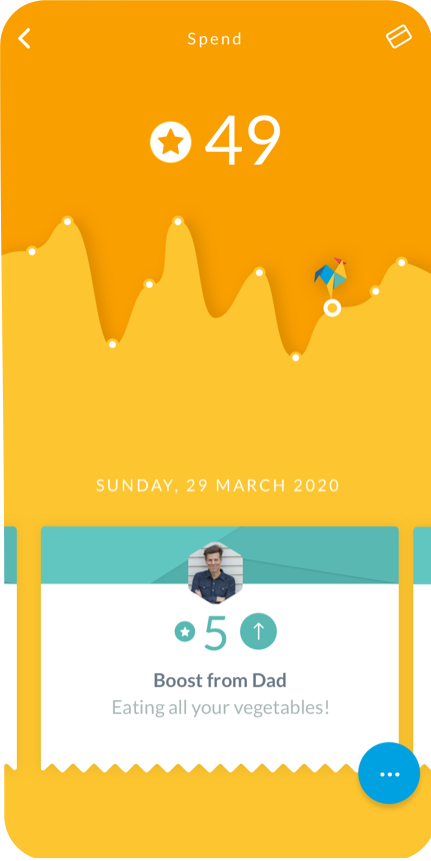 2
Track their Stars with Boosts and Removes
You can reinforce positive behaviours by boosting Stars or Money to your child's Rooster account. They can see their pots grow with what they've earned. If they've spent anything in store or redeemed rewards with their Stars, you can use 'Remove' to deduct them from their account.
This can be quickly done from the parent dashboard by tapping the + and – symbols on your child's profile tile. You can also make boosts or removes from within a Pot itself. Don't forget to write notes when boosting and removing so you can keep track of what it's related to!
When you're out in the shops and your child wants to buy something, you can check if they have enough money or Stars in their RoosterMoney account for it. If they do, use this as an opportunity to have them consider if they really want to make this purchase. Is there a goal they are saving up for that would impact? Would they rather wait to get something better?

If they do want to spend their funds, you can use the 'Remove' button to deduct the amount for the item you've bought for them.
3
Make it more meaningful by personalising your child's dashboard
You can customise your child's dashboard by removing standard pots they don't need and adding new Pots that better reflect what motivates them. Just tap the Edit button within a Pot to see options to hide it, and tap the add button on your child's dashboard to add their personalised Pots!
4
Positive reinforcement with the Reward Pot
The Reward Pot acts like a sticker chart in the app, letting you set a reward that can be earned for a number of stickers. You can set your child a task or ask them to exhibit certain behaviours in order to earn stickers towards their reward. You can create your child a Reward Pot by tapping the 'Add pot' button on your child's dashboard.
Note: The Reward Pot is available for families subscribed to Rooster Card. You can try it free for 1 month!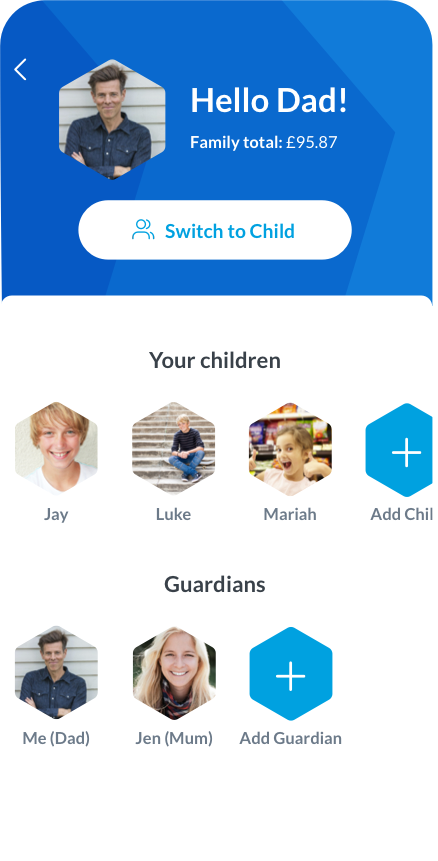 5
Get the whole family involved
Add a secondary parent or guardian to help manage your RoosterMoney account. This means both mum and dad (and even grandma when she looks after them) can give boosts or make deductions from the Spend pot when out and about!
From 'Manage Account' you can also set your kids their own login details. If they don't have their own device, tap 'Switch to child' so they can access their account from your device.
Note: You can add more than one extra parent/guardian when subscribed to Rooster Card.
The best way to learn is by doing. Get your kids managing their own account, so they can start making decisions on what to allocate where. With your guidance, you can create space to talk about money, like the difference between a need and want, and the value of saving for a rainy day!
6
Help visualise your child's routine with our Chore chart
With Chores, you can help keep your kids stay on top of the things they need to do to earn their Stars or money. Create a task list showing what they can earn if they complete them. Kids can view this from their account and submit the tasks for approval once completed.
NOTE: Chores is part of the Rooster Card subscription but you can try it free for 1 month!
7
Incentivise your kids with Goals
Now they're earning Stars or Money, what do they want to put what they've saved towards? You can build a Goal Pot together for things they can unlock with their savings. Whether it's a trip to the theme park or 30 minute screen time, kids can make a transfer from the Spend pot towards their Goals (or you can Boost the pot directly when they've done something good), bringing them closer to earning their reward.