There is one gift you can give kids this Christmas that could actually, in the long run, end up saving both you and them money. It's also a gift that will last them a lifetime. And, when it's done right, it can feel as fun and seasonal as an eggnog-fuelled sleigh ride.
Here are few ways to teach kids about financial literacy, and cut a few costs this season.
🎁 Making homemade gifts
Make a few gifts together with your kids, and they might learn the joy of giving something they helped create!
Talk to your kids about the kinds of gifts you want to make, and whom you might give them to. Here are a few homemade gift ideas to inspire you:
1. Christmas Cards  💌
Check out this awesome article of Christmas Card ideas! There are plenty of good, decorative tips, from making reindeers out of fingerprints to using buttons as Christmas baubles; we're sure it'll inspire your kids' creativity.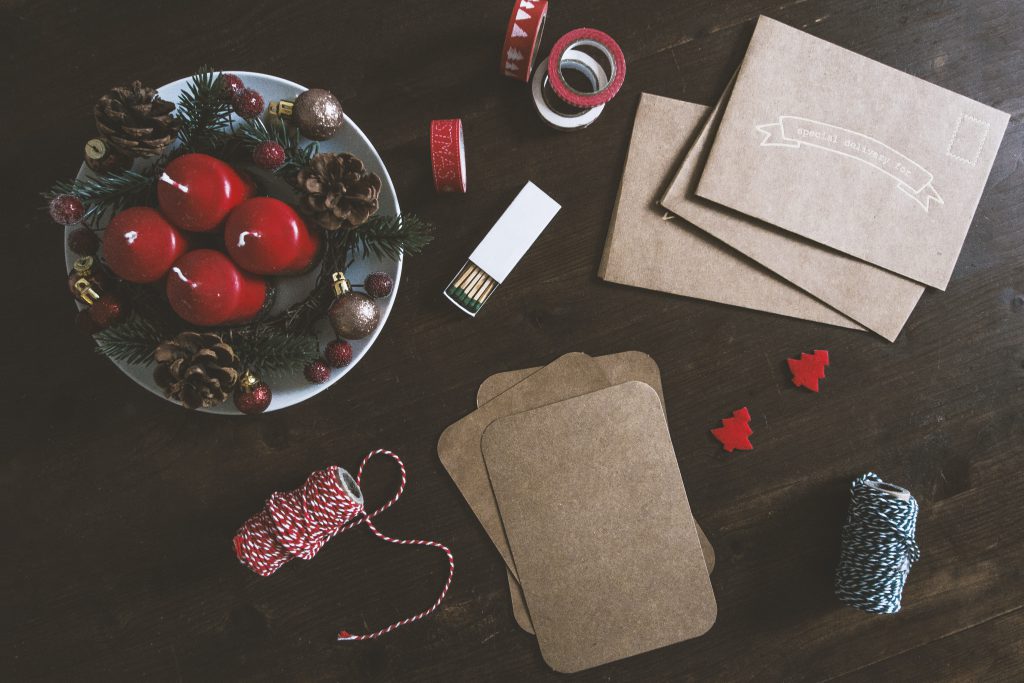 Photo by Kira auf der Heide on Unsplash
2. Food gifts  🍪
As the great American author, educator and counselor Alan D. Wolfelt once said, ''Food is symbolic of love when words are inadequate.'' So, what better way to express love this Christmas than making food gifts for your loved ones?
We love this Red Velvet Crinkle Cookies recipe, which you can make ahead and store in the freezer (for up to 2 months) until ready to be given away! 
Looking for a Christmas cookie recipe where your kids can help decorate? Look no further, here's a Christmas Lights one!
3. Watercolour bookmarks  🎨
If you'd rather stay away from the temptations of baked goods, why not get your kids to make watercolour bookmarks?
Here's a great video, outlining 12 Easy Watercolour Bookmark Ideas.  
🛍 Get help with the Christmas food shop 
Children can do a bit more than just prepare the sprouts on Christmas Day. Why not ask your son or daughter to draw up a budget for Christmas dinner?
You can explain why it's sometimes worth paying more for a good turkey or Christmas pudding, how to weigh and price vegetables, and which trimmings are necessary, and which ones are a nice additional extra.
🤔 Work out how much they can spend on gifts
It's good to get kids into the habit of buying Christmas gifts for their friends, parents, and siblings. However, children won't have unlimited Christmas funds, so it's also worth getting them to budget before they buy.
Try to get them to divide their total amount to spend by the number of gifts they need to buy. Then they'll get a better idea of the right price range.
💰 Some to spend, some to save
Before any Christmas envelopes have even been opened, having a chat about a percentage or fraction that should be saved is a good idea. Rather than telling them they have to save all their cash, try encouraging them to split it between their spending, and saving.
You can chat to them about why it's important to keep part of their pocket money saved – whether for a rainy day, for a holiday, for university, or even to look after their parents when you retire! If you ask your kids what a fair amount to save is, and then negotiate from that point, they will feel a greater responsibility to put that money aside.
Then, when it's time to spend, they can go to the sales counter themselves with a Rooster Card, a pre-paid debit card that allows kids to spend money in shops just like adults. It makes for a great Christmas gift. Parents and grandparents can add money straight into the child's account. No more mailing notes and cheques inside Christmas cards!
🏦 Set up a savings account
There is something incredibly satisfying about putting some cash into a savings account, and with the help of some generous grandparents, uncles and aunts, Christmas is the time to do it.
Via RoosterMoney, children can choose to put their money in 'Spend' (for everyday use), in 'Save' (for long term saving), in 'Give' (to introduce the idea of giving back), or towards a 'Goal' (to save for specifics like a toy or book).
If you haven't done so already, setting up a savings account which has your child's name on it will give them great pleasure, particularly if you hunt out a good interest rate with them – it teaches them what deals are available, though the market is competitive.
You can add it into a pocket money routine – encouraging kids to save a portion of their pocket money and put it into the account (this is exactly what the 'Save' pot is designed to do). For those in the UK, Martin Lewis (the Money Saving Expert) updates his round up of the best savings accounts for kids on a weekly basis.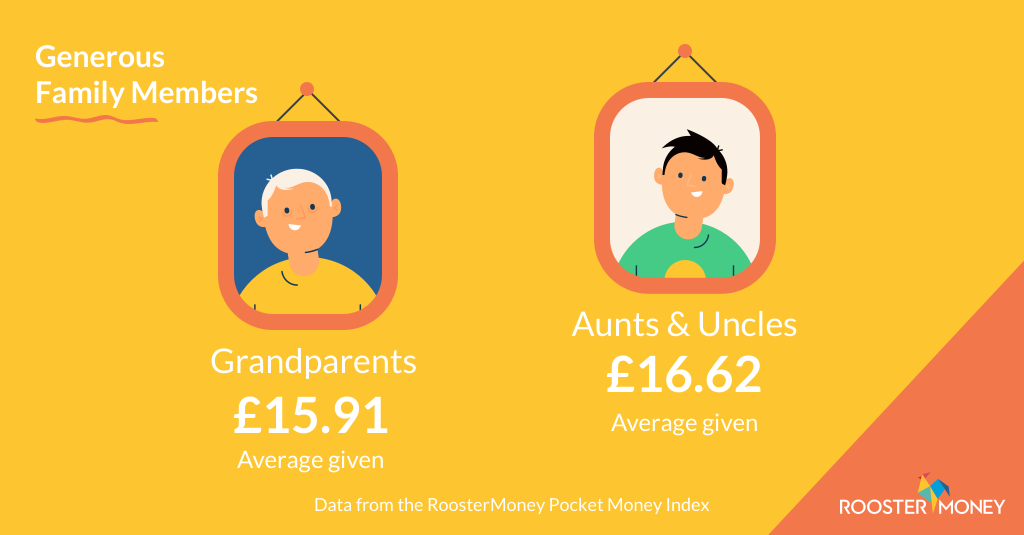 🎯 Set a savings target
After working out how much Christmas money your kids want to save, set a target for them to reach over the next month or year. That could fit with events over the year – so perhaps a family holiday or their birthday.
And if you need to give your kids a boost to help them reach their goals, you can give them a few one-off jobs to earn a little extra.
Some of the most popular jobs are helping out with gardening, walking the dog or some good old vacuuming!
📈 Set tiered goals
You can also get kids thinking about their finances in the longer term by setting tiered goals on RoosterMoney! This could be saving up to buy a new bike by next year, or buying that new toy over the summer holidays.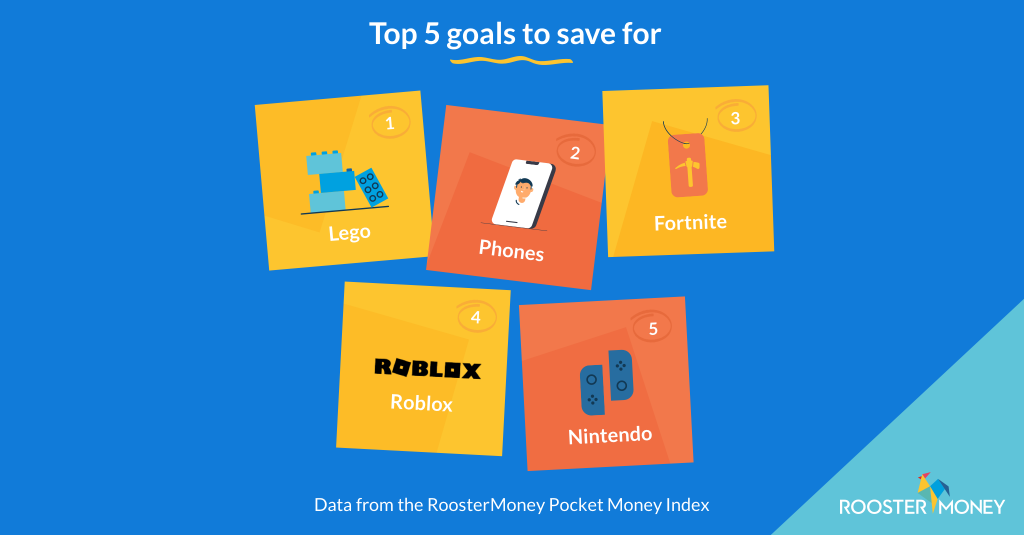 📋 Set up jobs for regular earnings
With all their goals set up, help children reach them by setting up jobs they can do to earn a little extra. With RoosterPLUS, you can assign a regular chore to your kids, like cleaning their room, or give them a bigger task, like washing the car!
Seeing the opportunities they have to earn a bit to put towards their goals will help them stay motivated. Or if you aren't ready for that, give our printable reward chart a go.
How's the festive season gone for you? Has RoosterMoney helped? If you have any other ideas on what to cover next, contact us at hello@roostermoney.com 🤗