Whilst we are all staying at home, that doesn't mean that money isn't being spent. Whether it's purchasing Fortnite V-bucks, Roblox credits or subscribing to a new game, those small transactions can add up. 
One of the great benefits of using the Rooster Card is to help your kids manage these online purchases with your oversight, and turn them into an opportunity to learn about money matters.
With this in mind, we wanted to list out some tips below for those parents that need help using the Rooster Card to manage online payments for their children.
To get started all you need to do is:
Make sure you have activated the card in the app
Make sure you have enough money in your spend pot
Make sure you know how to access the CVV number from within the app so you can provide it if you are asked (go to  the Parent Dashboard > Manage Card > Get CVV – see below)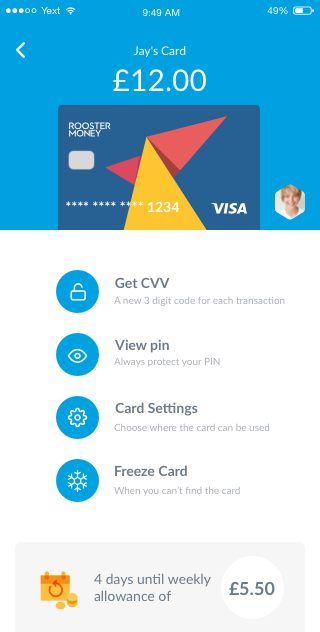 Once you've got those 3 steps done – you're good to go! 
Don't forget you'll get notifications when your child has made a purchase (as long as you have notifications turned on for RoosterMoney – we recommend you do that!)
So that's the basics sorted. If you'd like more detail about buying things online with the Rooster Card, you can check out these articles below.
More tips on using the Rooster Card online
We're also building specific guides to help with making online purchases at the other popular destinations like Nintendo & Amazon. So watch this space, or perhaps more specifically, follow our instagram!
Got some handy tips of your own?
If you've got any tips on using the Rooster Card with your kids, managing online purchases, or anything related to the app please let us know and you can help make our guides as helpful as possible – just get in touch at hello@roostermoney.com ?