One of the great benefits of using the Rooster Card to manage pocket money for your kids is that they can make purchases online, with your oversight. We all know that increasingly kids are wanting to buy things online rather than at the shops because so much of all our lives is online these days. Whether that's buying something from Amazon, purchasing some Roblox credits or selling some of their unwanted toys on Ebay, managing payments online is here to stay and giving our children the right skills to navigate this safely is important. Every family is different of course in terms of when they will choose to introduce online spending permissions into their pocket money routine, and some may choose never to do it, and that's fine. For those that are introducing online spending, and need some help managing it, the article should provide a few helpful pointers.
In the article you'll find
Using the Rooster Card online
As soon as your child's Rooster Card has arrived and has been activated in the app, they can use it for online purchases. But first, they'll need to check there is enough money in their Spend pot – which is linked to the card – to make those purchases. Your child can login to their app and check their Spend pot balance themselves, or you can check it on the Parent dashboard too.
If there isn't any money in their account, parents can boost the account with funds from the Parent Account. If the Spend pot is empty but your child has funds elsewhere in their account, your child can always transfer money from one of the other pots to the Spend pot. However, if you want to ensure they aren't dipping into their savings, parents can lock the Save pot so it can only be added to by your child, and not removed from! 
Did you know? The top 3 places to use the Rooster Card are:
Microsoft Xbox
PlayStation Network
Amazon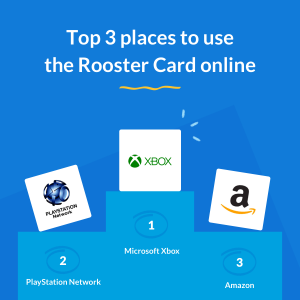 Entering card details for online purchases
To make purchases online using their Rooster Card, all they need to do is grab the card number and expiry date from the back of their card and use it on their chosen website. For enhanced security we generate a new CVV for each online transaction (except subscriptions) and so the  CVV must be generated from within their RoosterMoney app for each purchase, by either you or the child, each time. This can be found in the 'Manage Card' section of the App.. 
The code can only be used once, before it expires. If a CVV is generated but does not get used, it expires after 15 minutes and a new one will need to be generated. You will get a notification as soon as any payment is made so you stay in the loop!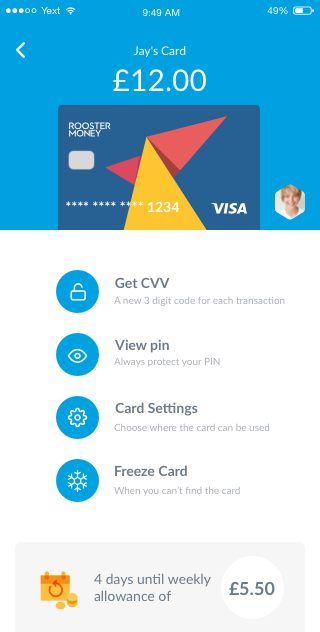 Guides on common online purchases are here:
Using the Rooster Card with Nintendo (coming soon)
Using the Rooster Card for subscriptions
The Rooster Card can be used both for one off online purchases or to pay for subscriptions your child has. Sometimes companies will authorise your child's card first when first signing up to a subscription. Please note that this will result in your child's CVV being used, so they may have to generate a new one for the subscription payment itself.
If your child doesn't have enough money in their spend pot for future subscription payments, we will notify you via a push notification if the payment has been declined.  We encourage both you and your child to enable your push notifications for the app so you can be kept posted on any card activity.
Reflecting on spending activity
It's useful to stay on top of your spending activity and both you and your child can view the Spend pot statement where we list payment activity to date. This includes what allowance or money has been paid in from the Parent Account, transfers to different pots and payments made on the card. 
This can provide a great way of prompting conversations about making purchases for example the differences between needs and wants and whether certain spending behaviour is absolutely necessary.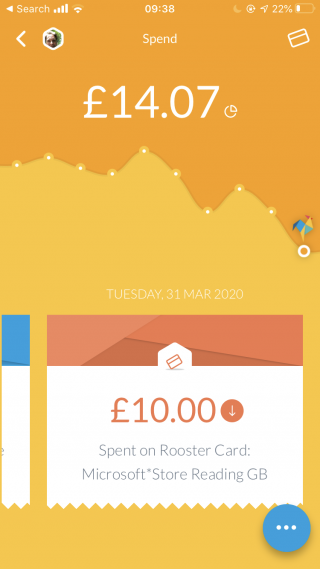 What if the Rooster card is getting declined online?
First thing to do is check if 'Online' spending is enabled in your child's card settings. If that is switched off, then your child's card cannot be used online. If online spending is enabled, then check if there is enough money in your child's spend pot to cover the payment. You can view our list of potential reasons why a payment has been declined here. 
Spending safely online
Of course with the ability to buy things online comes some safety considerations and we can take the opportunity to teach our children about these. Here are some top tips on buying safely online:
Make sure you recognise the name of the website you're buying from
Look for https in the URL rather than HTTP
Regularly update your browser to ensure you always have the latest security features
Check your statements regularly to make sure you recognise all vendors and if you don't recognise any, contact our help team
Never give your PIN away online
Have a strong password and change it regularly
The Rooster Card comes with enhanced security features so parents can guide their children in learning these lessons, for example a purchase notification can help you scrutinise purchases and parent access to the app means you can undertake a number of the card administration features such as Freezing/ Unfreezing the card if it gets lost.
Case Study: How the Allen Family use the Rooster Card online
Ben & Fiona have been using RoosterMoney with their two kids, Leo (9) and Manu (5), for a couple of years now. They share their experiences, including how they manage online spending on Roblox and Minecraft with the Rooster Card. Read their story here.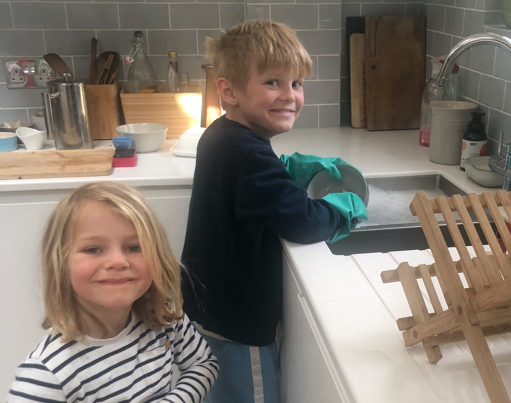 Got any more tips?
We hope the above article is a useful introduction to using the Rooster Card for online purchases, if you have any ideas to help improve this article or examples you can share with our community then please email us at hello@roostermoney.com ?