Let's face it, we could all do with cutting down on screen time a little. Playing outdoors is a great way for kids to get away from TVs and tablets. However, sometimes children need a little encouragement to embrace the great outdoors. These summer outdoor toys should give children of all ages a reason to leave the sofa and get into the back garden.
Kidztoys Water Sprinkler For Kids, £11.99. Best for the very young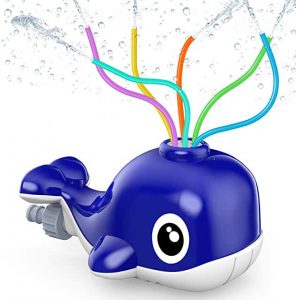 Children have been jumping in and out of lawn sprinklers for decades, but only recently have toy manufacturers begun to create cutesy sprinklers specifically for this market. Once connected up to the tape, the Kidztoys sprinkler's colourful tubes whip about, spring water eight feet into the air, once on full blast. 
Intex Rainbow Ring Play Center, £56.94. Best for pre-schoolers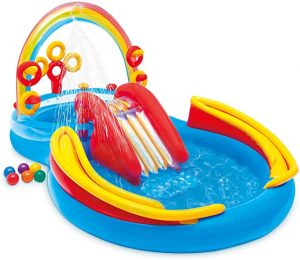 Very young children can't jump down a water slide or dive into a pool's deep end. However, this inflatable, watery activity center offers toddlers the next best thing. The Rainbow Ring has a water slide, wading pool, main pool, ring toss game, as well as a water sprayer that clips onto a garden hose, to keep kids cool in summer.
ToyerZ Lawn Darts. £29.98. Best for young school kids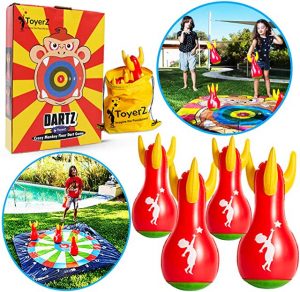 You don't have to worry about spikes with this lawn dart set. Toyerz' Lawn Darts are inflatable, with weight tips, making them easy and safe to toss. The set comes with dual-sided target mat, a tote bag, and pegs to secure it on your lawn (though the makers suggest you can use it inside too.)
Team Magus DevilFish Slip & Slide, £42.00. Best for family fun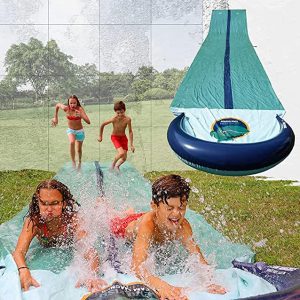 This18-foot long water slide has a built-in sprinkler system, a crash pad for safety, and two lanes, which means you can race! It connects to a standard garden hose, and only takes about a minute to set up. Also, it's pretty heavy duty, so you should get more than one summer's use out of it.
Spyra 2, £128. Best for older kids (and adults)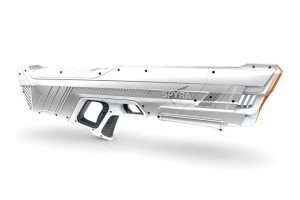 These German-engineered electric water pistols can shoot 22 semi-automatic squirts of water per change, each with a range of around nine meters (30 feet). They refill themselves in around 12 seconds, and are, of course, fully waterproof. 
Liked this? Take a look at our top 5 phones for kids, here. You can also see our other Rooster Recommends articles, here.
And you can get the RoosterMoney app here.